Ravioli is a type of pasta dish that has a filling in every noodle, but it can be tricky to decide what to serve with ravioli.
There are plenty of wonderful side dishes that can pair well with whatever type of ravioli you choose from.
The Best Side Dishes To Serve With Ravioli. Salads, Breads, And More
Whether you choose cheese ravioli, lobster ravioli, or butternut squash ravioli, the perfect compliment for you is out there.
We'll explore some of the best options to serve with ravioli, ranging from vegetables to breads.
Salads To Serve With Ravioli
Salads are a nice, healthy option to serve alongside your ravioli. There are so many different types to choose from and how they can best be prepared.
Here are some of the most popular options, known for their crisp texture and strong taste.
1. Caesar Salad
Caesar salad is a classic side salad often made with crisp romaine lettuce and croutons. These two ingredients bring a nice, crunchy flavor that you don't often find in ravioli.
If you are looking to add more to your Caesar salad, you can sprinkle some parmesan cheese over the top to add in some dairy.
You can also add a nice dressing or balsamic vinegar to really take the flavor in a bold new direction.
2. Caprese Salad
Caprese Salad is a nice, lighter option you can enjoy alongside your ravioli.
This type of salad is often made with tomatoes, basil leaves, and mozzarella cheese along with a balsamic glaze.
The juicy tomatoes will give you a refreshing flavor and the cheese helps to give the salad a nice creaminess.
All of these factors come together to make a truly delicious side to serve with your ravioli.
3. Panzanella Salad
Panzanella salad is made with chunks of an Italian bread, such as sourdough, along with cucumbers, red onion, and cherry tomatoes.
Some salad recipes have you add in a vinaigrette dressing as well.
All of these flavors come together to create a rich array of flavors and textures, resulting in a tasty side for your ravioli.
If you like all of these ingredients, then the Panzanella is right for you.
4. Green Salad
Green salad is a real easy recipe to begin with. It is simply a mixture of different types of lettuce and spinach, creating a nice blend of greens and an overall refreshing salad.
What makes green salad exciting is where you can take it next.
You can add in other veggies like tomatoes and onion or cheeses like feta to make a unique salad that sits well with you.
5. Italian Salad
Like many of the other salads listed above, Italian salad has leafy greens with onion, tomato, and dressing mixed in.
What sets this great side dish apart is the pepperoncinis mixed in.
Pepperoncinis are tangy with a little bit of spice. If you are wondering what to serve with your ravioli, look no further than this delicious side dish for its spicy flavor.
Roasted Vegetables To Serve With Ravioli
Roasted vegetables are another great choice to serve alongside your ravioli.
There are plenty of great veggies to choose from, each with their own distinct flavor that can come out through preparation.
Here are some veggies that pair well with all sorts of ravioli.
1. Butternut Squash
Butternut squash is a hearty veggie that pairs well with all sorts of different raviolis. It can be chopped up and baked in the oven with olive oils and seasonings to create a nice, chunky side.
Butternut squash has a slightly sweet flavor which contrasts well with a tomato sauce in the ravioli.
This is a great option especially for butternut squash ravioli if you can't get enough of this gourd.
It can even be a great thing to serve with butternut squash ravioli if you don't mind squash on squash.
2. Asparagus
Asparagus spears have a nice, nutty flavor that can go well with ravioli. These greens will come out of the oven nice and crispy, making them the perfect side dish to serve with ravioli.
If you want a little more flavor, you can season them however you see fit or even add on some lemon juice to give it a nice sour zest. Whatever you see fit will work for these versatile veggies.
3. Zucchini
Zucchini is a great choice to serve along with your ravioli. Its main strength comes from all of the different shapes you can prepare it in and all the ways it can be made fun to serve.
You can chop it into slices, cube it, make zucchini pasta noodles, or even cut them in half and top them with parmesan to make cheesy logs. All of these options pair nicely with a ravioli meal.
4. Oyster Mushrooms
Mushrooms aren't technically a vegetable, but they are just as rich in vitamins. Oyster mushrooms are a great side dish that goes great with ravioli.
Like the vegetable side dishes listed above, oyster mushrooms are great when roasted with a little oil and seasoning. Their earthy flavor makes them great ravioli sides.
Italian Breads To Serve With Ravioli
Italian breads have a satisfying crunch to them that pairs well with a softer ravioli. You can also use the bread to mop up leftover marinara sauce once you've finished your main course.
1. Sourdough
Sourdough has a strong, distinct flavor. As the name suggests, this type of bread has an almost sour flavor that sets it apart from other types of bread.
The unique flavor of this bread makes for a tasty side dish that pairs well with ravioli dishes. It goes great with a good creamy sauce leftover from your main course.
2. Garlic Bread
Garlic bread has a nice savory flavor that pairs with all sorts of Italian dishes. It's fairly easy to make, only being bread that's been buttered and sprinkled with crushed garlic and Italian spices.
Like most types of bread, garlic bread is best served warm right out of the oven. The resulting flavor is indescribable and a great side for ravioli.
3. French Bread
French bread doesn't have all the bells and whistles of the other bread options. It doesn't have an extreme flavor or a garlicky taste, but it still is perfect as a side to your ravioli.
This light, spongy bread is great for cleaning your plate after you're done eating ravioli. It's great for soaking up all sorts of pasta sauces, from butter sauce to cream sauce.
It may be basic, but it's great for its applications.
What To Fill Your Ravioli With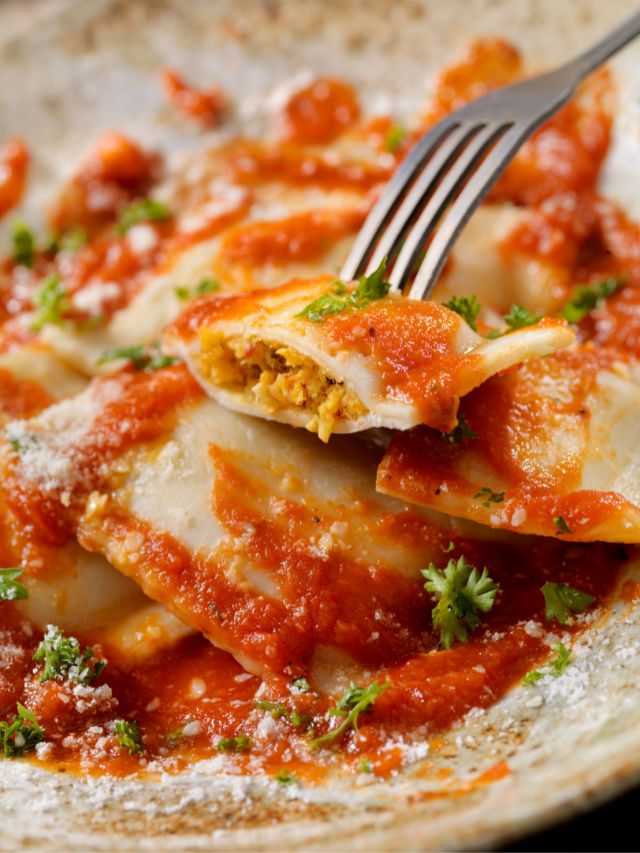 Enjoying homemade ravioli made from scratch is an amazing feeling. However, it may be hard to choose how you want to fill your noodles since ravioli comes in so many different varieties.
We've narrowed down some of the best ravioli fillings to pick from so you can choose the one that is right for you.
1. Pumpkin Ravioli
Pumpkin has a sweet, earthy flavor that is often associated with the autumn season. That makes it a great choice for a seasonal meal you won't forget.
This sweet and savory filling is a great choice due to its high amounts of vitamin c. We recommend this ravioli as a nice, nutritious option to eat when the leaves turn red.
2. Beef Ravioli
Beef often has a salty flavor once it has been cooked, meaning it can give your ravioli a unique taste.
This protein rich option is very filling and can help even your ravioli appetizers feel like a full meal.
If you want to enhance the flavor, you can add in some parmesan to add a bold new flavor to eat with ravioli.
The best sauces we like to serve with this ravioli are marinara and other similar kinds, but it could be worth it to try some new choices.
3. Lobster Ravioli
Lobster has an almost sweet flavor that stands out among other types of ravioli. This shellfish is somewhat flaky and can be seen as one of the more fancy ravioli variations.
All sorts of ravioli sides can be served with lobster ravioli, from salads to bread.
This is thanks to the sweet flavor of lobster pairing well with just about any flavor.
How To Find The Right Ravioli Side Dishes To Serve
No matter the sides for ravioli you decide to serve at the dinner table, ravioli can bring a variety of tastes that just can't be beat by other pasta dishes.
To find your favorite side dish for ravioli, we recommend trial and error until you find the perfect combination for you.
Just keep pairing your favorite ravioli with side dishes like salads and breads until you find a mixture that clicks with you. You'll get to enjoy a lot of ravioli dinners along the way.
Get the scoop on more like this: